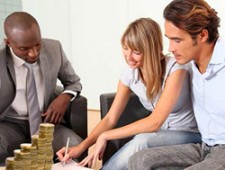 RealtyTrac incites Twin Cities real estate buzz about new down payment assistance along with Down Payment Resource's analysis of available funds. Home Destination, an expert Minneapolis area real estate agent with RE/MAX Results, comments on the findings and encourages homebuyers in the Twin Cities to seek out down payment assistance.
Online, February 18, 2015 (Newswire.com) - Prospective home buyers in the Twin Cities may be surprised to learn that there is more help with a home down payment than they realized. Better guidance for qualified homebuyers to learn of more Twin Cities down payment assistance programs is surfacing. Down Payment Resource and RealtyTrac are helping prospective home buyers to get out and seek funds.
"The substantial increase in home financing options at hand and improvements in credit scores required for conventional 3 percent home down payments can really help qualified homebuyers in the Twin Cities," says Jenna Thuening, owner of Home Destination. "Whether the applicant is a first-time Millennial homebuyer or a re-turning home buyer ready to list a home for sale to become a move-up buyer, they may find down payment funds."
Home down payment help programs for Minneapolis real estate buyers reduce barriers to buying a home with a quality loan. Individuals who are beginning their search for a Twin Cities home purchase can ask their representing real estate agent to point the way to which programs are available to help cover down payment costs. Buyers can improve their position to successfully buy a home when they come to the closing table with finances in place.
First-time homebuyers in the Twin Cities who dream of owning a house someday initially find that it involves a lot of planning and saving. Therefore, finding out that help is available for covering a portion of their home closing costs is helping some Millennial home buyers move forward. The top concern voiced by buyers engaging in the process of buying a home is the worry of having a sufficient down payment, and then secondly, ensuring qualification to gain approval for income-to-debt ratio requirements.
"Many homebuyers, especially Millennials, haven't fully investigated their home financing options because they are pessimistic about qualifying for a mortgage. Our Homeownership Program Index highlights the wide range and availability of down payment programs available to today's homebuyers. Income limits vary depending on the market and programs extend beyond just first-time homebuyers," said Rob Chrane, president and CEO of Down Payment Resource.
Here is how the numbers roll out for Minnesota, according to the First Quarter 2015 Down Payment Resource Homeownership Program Index, which encompasses programs available in their registry as of January 14, 2015: Minnesota home buyers have 49 Downpayment Funded Programs across the state, with a rate of 92.5% having funds available. That comes out of 37 programs and 31 agencies, 3 of which do not have down payment funds available.
The report lengthened to and now comprises 2,290 home down payment programs, leading by nearly 100 more programs than posted in the September 2014 index.
This covers more than 1,200 separate housing agencies and program providers nationally:

18 of which are offered nationally.
24 percent of programs are open for an entire state, not limited to one district or residential neighborhood of single-family homes.
90.6 percent of the down payment programs have existing monies for homebuyers, which is a minor drop from September's 91.7 percent figure.
Q1 report displays an upturn in Mortgage Credit Certificates (MCC) and Combined Assistance programs, which merge a first mortgage with down payment and home closing cost resources. Loan officers can offer details if they can be layered with other most loan products.
Over 14 percent of programs are unique opportunities available just for veterans, buyers with a disability, and other professions or special situations.
91 percent of the total 2,290 programs in the Down Payment Resource registry have financing ready to lend to qualified real estate buyers.
"At many a given time, a full 80 percent of active real estate listings in the Twin Cities qualify for one or more down payment assistance programs. Taking the time to see how to qualify to receive a down payment loan or grant and what eligibility requirements exists is worth it," believes Thuening. "Don't consider it to be only for first-time homebuyers; we have seen programs that have down payment funds available for homes in the price tier of $500,000 or higher and for applicants with household incomes as high as $100,000."
About Home Destination - Twin Cities Real Estate:
Home Destination offers a loyal and committed real estate professional service that personally handles all of the details of selling or purchasing homes in the southwest Twin Cities metro. Helping all home buyer types, from individuals seeking to buy their first home to individuals purchasing investment properties, Jenna Thuening has the real estate experience and acumen buyers and sellers benefit from. Read more about how to find down payment funds for Twin Cities homebuyers.
Contact:
Jenna Thuening
Web. www.homedestination.com
Email. jenna(at)homedestination(dot)com
Tel. 612-396-7832
Source URL: http://prweb.com/releases/twin-cities-homebuyers/downpayment-assistance/prweb12513727.htm
Share: