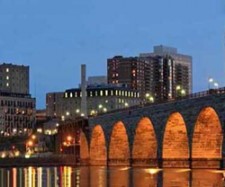 More Minneapolis homeowners underestimate their home's value in 2014 than the previous year, letting hundreds or thousands of dollars slip through their grasp. By offering home sellers in the Twin Cities expert guidance, Home Destination of RE/MAX Results benefits clients by ensuring home price estimates are consistent with current home values.
Online, December 22, 2014 (Newswire.com) - Some Minneapolis home sellers may be ruffled by new research from the country's second-largest mortgage lender, Quicken Loans. Especially if they sold their home under value due to a lack of understanding improvements in the Twin Cities housing market. Home values in the metro have gained at a better clip than many home owners are aware of, and therefore, a growing percentage of Minneapolis home owners underestimate their home's value, letting hundreds or thousand of dollars ship through their grasp.
"Minneapolis real estate sellers who tend to be over optimistic on what their homes is worth may list too high and stagnate a sale. A home renovation without a value cost comparison on resale may catch them wishing for better foresight," says Jenna Thuening, owner of Home Destination. "But many sellers are pleasantly surprised to find that home values have appreciated more than they thought. For home sellers in the Twin Cities who want to transfer their equity into another home, an accurate asking price may avoid leaving money on the bargaining table."
New opinion shows that, nationally, prospective home sellers typically underestimate the value of their homes by 1.6% compared with appraisers' valuations. Appraiser opinions were higher than Minneapolis home owner perceptions in November of 2014 more than the same month of the previous year. last month, Minneapolis home appraisers were 1.68% higher on average; while the percentage was 1.06% in 2013. This means that the average Minneapolis home seller leaves .06% more money on the table than needed and above the national average, according to details from Quicken.
During November, Quicken Home Loans HVI snapshot of the most accurate home value trends measures the discrepancies between appraisers' home value assessments and what U.S. homeowners and home buyers presumed. Surprisingly, individuals seeking a home refinance in nearly three-quarters of the major metros covered by the index had underestimated their homes' value when a current and profession home appraised was conducted. The dollar differences though trifling in most cases was $2,000 to $4,000 on a $200,000 home, and substantially higher in certain metros.
Taking a broad sweep look from coast to coast, in San Jose refinancing's found applicants underestimated their home values by 6% on average. Calculating with their median home sale price of $860,000 in the third quarter, a 6% perception gap leaves looses in the check book of $51,600. In the Washington, D.C., area, the margin come in at 1.8% ($389,000 versus $395,885). Homeowners in the Twin Cities still come in a bit closer than both of them, yet .08% higher than the national 1.6%.
Quicken's study exposed a new widespread pattern of increased undervaluation in stark contrast with owners' estimates a few years ago, which often were far off sync with home appraisers' reports. The news of more home equity than perceived, can be worked to a seller's advantage. Listing a Twin Cities home at market value can be money saved and converted into a further real estate investment.
About Home Destination - Twin Cities Real Estate:
Home Destination offers a loyal and committed real estate professional service that personally handles all of the details of selling or purchasing homes in Eden Prairie, Minnesota. Highly regarded by peers as a Minneapolis metro expert for over 15 years, gain a skilled representative as guide to make the best possible housing decisions. Helping all home buyer types, from Millennials seeking to buy their first home to individuals moving-up to a larger luxury home, Jenna Thuening has the real estate experience and acumen buyers and sellers benefit from.
Contact:
Jenna Thuening
Web. www.homedestination.com
Email. jenna(at)homedestination(dot)com
Tel. 612-396-7832
Source URL: http://prweb.com/releases/Minneapolis-homeowners/underestimate-home-values/prweb12413193.htm
Share: