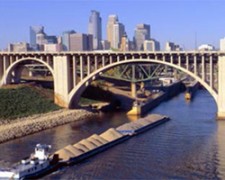 Businesses moving to the Twin Cities generate jobs that empower home buyers and produce substantial real estate market gains. Home Destination, a Minneapolis southwest metro real estate agent with RE/MAX Results, gleans housing data from Northstar MLS to show how empowered homebuyers are increasing the dollar volume of Twin Cities closed home sales.
Online, November 7, 2014 (Newswire.com) - Real estate in the Twin Cities has seen substantial market gains in the last two years. Many individuals relocate for jobs, and conversely, major corporations have relocated to the metro after taking into consideration where they could find a sufficient number of highly skilled residents to hire. This has moved upward the dollar volume in Twin Cities closed home sales and helped support the local housing recovery, according to Northstar MLS data.
"New businesses open up new jobs, which means that buyers waiting for sufficient income can now move ahead with plans to buy a home," says Jenna Thuening, owner of Home Destination. "Prospective metro homebuyers find an exceptional array of options due to the new Twin Cities real estate market gains. From downtown Minneapolis luxury condos and homes in highly desirable neighborhoods to starter homes in classic tree-lined established neighborhoods to the stately mansions on lakeshore properties, there is something for every empowered buyer type."
"We're encouraged by the uptick in economic activity," said Mike Hoffman, MAAR president-elect, in a statement. "Additional wage growth and hiring will uphold the continued interest in homeownership." Would-be home buyers who have sat on the sidelines have better opportunities for higher paying job positions from thousands of local employment opportunities.
Two notable real estate transactions announced so far in November indicate just how strong the draw of real estate in the Twin Cities is:
1. A MetLife-led contingent paid for the five-building Normandale Lake Office Park in Bloomington this week. The price is expected to supersede the $265.2 million price tag when the same property sold in 2012; it sets a new bench mark for the Twin Cities market. Betsy Clark, managing director of MetLife Real Estate Investors, told Finance Commerce: "MetLife invests in real estate with a long-term perspective, and Normandale Lake fits right into this strategy".
2. Arcserve, a $100 million-plus software, will be moving this December to its newly purchased headquarters in Eden Prairie, Minnesota, according to an announcement in the Minneapolis - St. Paul Business Journal yesterday. As a software giant, it is an example of a corporate relocation that plans to add 100 employees to the metro workforce, all hired without taxpayer assistance.
Both commercial real estate transactions are a signal that major companies believe in the real estate industry and economic health of the Twin Cities. The next phase of the housing market recovery may depend on traditional home buyers, including younger Millennials in the Twin Cities who are waiting for a boost in income growth.
On July 28th, Twin Cities Business stated: "Two notable retailers making inroads in the Twin Cities are Hobby Lobby, represented locally by Bob Minks of Colliers International, and Total Wine & More, handled by Chris Simmons, also of Colliers. Both retailers are opening local stores and looking to add more." In this manner commercial real estate works to support residential real estate: as new business moves into the Twin Cites, more would-be home buyers have the job potential for the income needed to buy a home. Its a fast a positive track when both commercial and residential real estate gains in the Twin Cities generate a win for everyone.
New businesses moving into the Twin Cities combined with gains in new home construction have bolstered the Twin Cities housing market. In January of 2014, the University of St. Thomas, Minneapolis stated, "The key driver for new residential construction is household formation. Household formation is largely driven by jobs, as a result jobs are the key driver".
3 Reasons Behind the Real Estate Market Gains in the Twin Cities
In 2011, an AOL Real Estate Report listed the Twin Cities, Minnesota 5thth in its list of the Best Run U.S. States for the following reasons (still holding true):

The percentage of residents without health insurance: 9.1%; 4th lowest nationally
The percentage of residents below poverty line: 11%; 10th lowest nationally Unemployment levels in the state stand at: 6.9%; 14th lowest nationally
"For house hunters with the means to buy in today's market, the Twin Cities has been a big draw. In many ways the Twin Cities has been record-setting and can boast of a remarkable recovery from the real estate market tumble," states Thuening. Overall, the Twin Cities offers quality homes at an exceptional value; legendary home values may be gained due to the stable and progressive Minneapolis - St. Paul employment and real estate market conditions.
According to Northstar MLS housing data, the current 1 year dollar volume, as of October 2014, of closed home sales by property type is:
Single-Family homes: $10,159,409,243, which is down -1.4%
Townhouse - condo: $2,318,823,613, which is up +12.0%
Condos: %731,134,792, which is up +20.7% Townhomes: $1,587,688,821, which is up +8.4%
All property types: &12,585,533, 807, which is up +0.6%
"We are seeing would-be homebuyers with renewed consumer confidence that are optimistic they will sustain employment that empowers them to make a home purchase," comments Thuening. This should bolster the volume of closed home sales and further benefit the Twin Cities economy.
About Home Destination - Twin Cities Real Estate:
Home Destination offers a loyal and committed real estate professional service that personally handles all of the details of selling or purchasing homes in Eden Prairie, Minnesota. Highly regarded by peers as a Minneapolis metro expert for over 15 years, gain a skilled representative as guide to make the best possible housing decisions. Helping all home buyer types, from individuals seeking to buy their first home to individuals moving-up to a luxury home, Jenna Thuening has the real estate experience and acumen buyers and sellers benefit from.
Contact:
Jenna Thuening
Web. www.homedestination.com
Email. jenna(at)homedestination(dot)com
Tel. 612-396-7832
Source URL: http://prweb.com/releases/twin-cities-businesses/empower-more-home-buyers/prweb12312926.htm
Share: